There are several ways to update wordpress theme manually. You can upgrade via wordPress theme uploader or with FTP.
How do I know there is a new version?
All new themes use update notification in dashboard, for old themes, update notification only via email. If there is an update available, it will display a notification in dasboard menu. Look image below: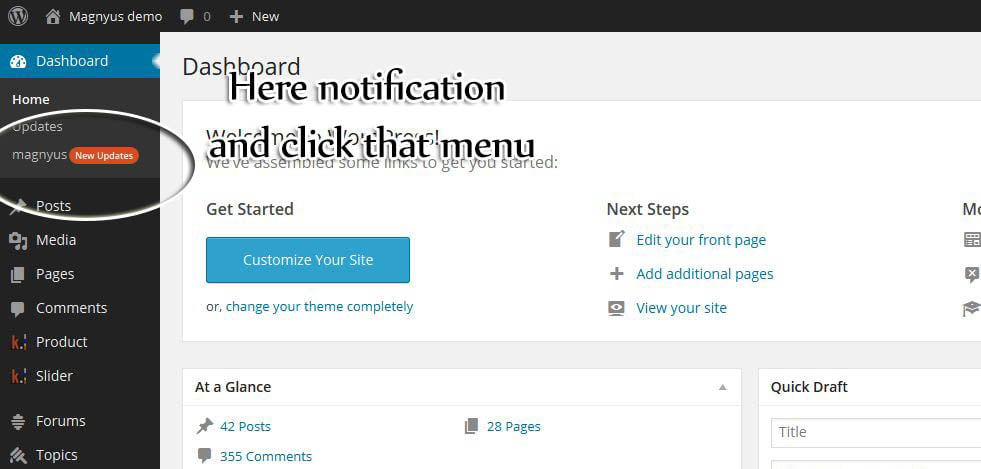 You can find changelog in that menu. Below is method how to update your wordpress themes manually.
Update Themes With FTP
FTP method is also great when you can't login to your dashboard. For example, if the active theme breaks your WordPress site, you can resolve the issue by connecting to your FTP server and deleting/renaming the active theme folder to something else. WordPress will then reset the active theme to the default theme.
To update themes with FTP:
Login to Member Dashboard to download the latest theme zip. If it is a free theme, simply download the zip again from our site. The zip on our site is always the latest version.
Extract the latest theme zip on your local computer
Connect to your server via FTP (you can use fillezilla for your FTP)
Go to "wp-content > themes" folder
Before you replace any files or folder on your server, we recommend to download a copy of the current theme folder to your local drive for backup
You may replace entire theme folder or individual files manually.
Update Themes With Theme Uploader
You may use the theme uploader to reinstall the latest theme zip. Again, backup your Themify panel settings before reinstalling the theme.
Login to Member Dashboard to download the latest theme zip
Login to wp-admin
Go to Appearance > Themes
Temporarily activate a different theme (theme can not be deleted if it is active)
Now click on the "Delete" button to remove the theme (the "Delete" link is located under the theme screenshot)
Then click on the "Install Theme" tab (located at the top of the page), click on the "Upload" link, upload the latest theme zip and activate it.
If still confused please submit ticket via helpdesk.